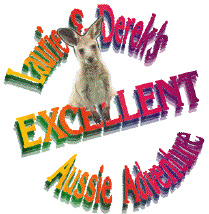 Well, this adventure drew to a close on 19 December, 1998, as we watched a glittering Sydney dwindle behind us, after nearly two years of life down under.
We took many memories with us, of course; here are a few of them.
We have many photos for your viewing pleasure; you can follow us from the last frenzied days of living in Boston, to our temporary apartment in downtown Sydney, to our flat in Darlinghurst, to our roach- and needle-free flat in Bondi Junction, and through various sightseeing trips. See animals at the beautiful Taronga Zoo, the outrageous 1997 Sydney Gay & Lesbian Mardi Gras parade, aerial views of Sydney (on their way), and more.
Australia is a wonderful place; you should go see it all (or as much as possible) for yourself!
---
| | |
| --- | --- |
| Kata Tjuta (The Olgas) in the last rays of sunlight | Always more pictures to come! |